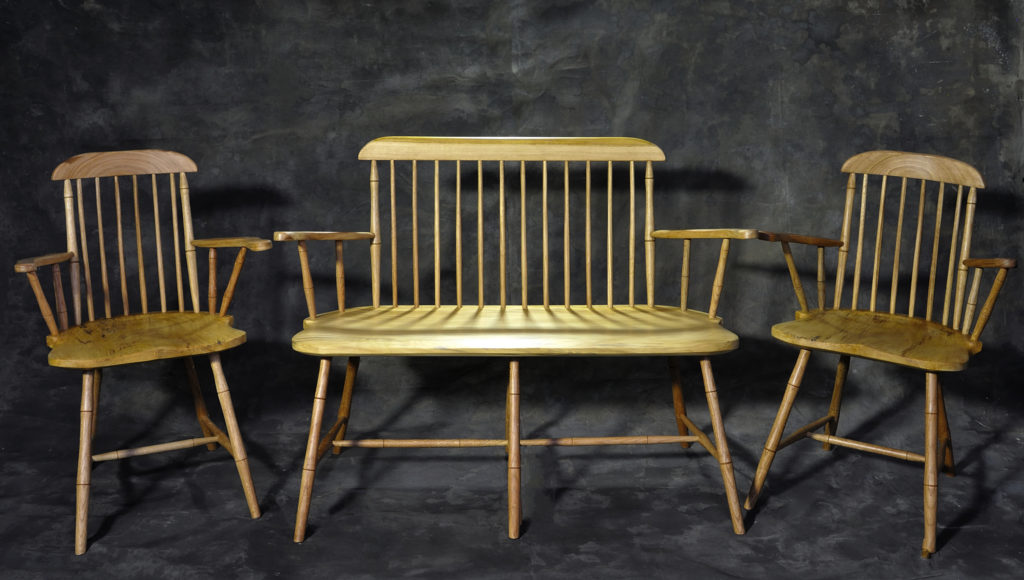 In late 2015 I was contacted by the curators Leon & Ginny Sadubin to invite me to take part in the 2016 Treecycle project at the Royal Botanic Gardens in Sydney. At first I was somewhat nervous about taking part as the other invitees were amongst Australia's finest woodworkers & furniture designers. After some encouraging words from Leon I gladly accepted the challenge & spent the first half of 2016 immersed in designing & creating a 3 piece set called the Botanica Suite. The idea behind this project was that a large quantity of timber from the Sydney, Mt Annan & Mt Tomah gardens which had been saved, was made available to the 45 selected artisans to create an object of beauty & function to be sold at the exhibition. The production of these works was difficult for most of us as we had never worked with these species before so the process involved a "suck it & see" approach. My personal problem arose when the timber I had chosen for  the intended steam bent arms & back (Brown Barrel- Eucalyptus fastigata) in a word, just didn't, so after many broken bends, a change of design direction was necessary. After over 2 months work I was finally happy with the result which received great interest at the exhibition in August this year. Ok, so it didn't sell, but the journey was an inspiration to me & I learnt so much more about achieving a finer finish on my work. In closing I have to thank both  Leon & Ginny for their untiring enthusiasm & encouragement & of course the wonderful people of the Foundation & Friends of the Gardens.
Technical Facts:      Species used were: Seat- Outenica African Yellow Wood (Afrocarpus falcatus)   Turned components/ legs, stretchers,arm posts- Firewheel Oak ( Stenocarpus sinuatus)  Combs/arms -Brown Barrel (Eucalyptus fastigata )
The seeds of the Outenica & Firewheel Oak were planted in the Sydney Botanic Gardens in the early 1800's.