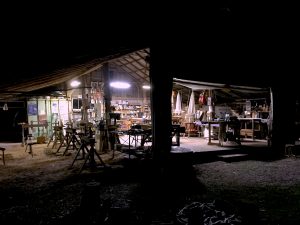 In 2020, for our 10th year Geoff and I ran 3 courses at his wonderful Molong workshop. During our 3rd course the 100th chair was created.
The large workshop is fully outfitted with shave horses, pole lathes, work benches and all the tools chairmakers might need.
The Molong courses are very popular and many of the students are on their 4th or 5th visit along with new faces every year.
The workshop has such a great vibe and after work there are long discussions over a suitable beverage or two. Check out Geoff's website for more information.